You know how stressful it can be when you are ill and can't get stuff done? Yeah, well it turns out it's just as stressful, if not more, when you get better and try to catch up on everything but you're in a perpetual state of behind and even though you're doing stuff it still seems like you'r climbing a never-ending mountain! That's kind of what I'm going through right now. So. Much. Stuff!
Today I am showing you one of those stuffs, the
Born Pretty Store
Texture L001 stamping plate.
The Texture plate has 7 full size nail images, one large image and 11 smaller images. It is etched really nicely and stamped well each time and from each image. This would be a great plate for doing marble nails.
So of course, the first nail art I did with it was what I am now calling "budget rose quartz" nails. It didn't quite look how imagined it would.
But honestly, I'm not mad because it still looks really pretty.
For this nail art I used a few coats of OPI Be Magentale With Me and stamped using Moyou White Knight for the stamping. Then I added another coat of Be Magentale With Me.
My second nail art turned out really good and I absolutely love it.
I started with a base of Barry M Cotton, then I stamped using Barry M Frosted Cupcake Earl Grey for a very light image, and I stamped over it with Barry M Chai to get a marble effect.
Then I went in with the smaller images and Barry M Razzle Dazzle from the Liquid Chrome range. I saw a phone case not long ago that looked very similar and I was trying to nail that look. I'm pretty happy with how close I got, the end result is awesome.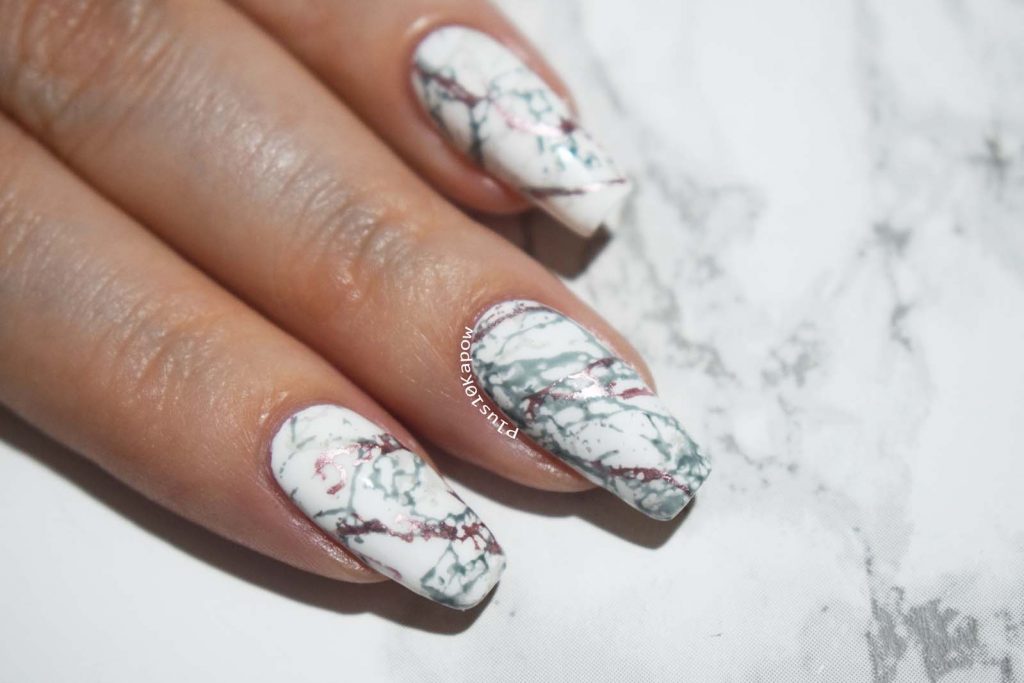 I topped both looks with Seche Vite as usual.
If you fancy this fun plate, you can find it here for £3.01/£3.99 and don't forget that you can now use code CBAQ10 to get 10% off any items on bornprettystore.com.
Hope you're managing to conquer your tasks with minimal stress this week.
:)x