Onto these little pretties:
So, the mini set comes with 4 mini 3.75ml bottles of the Liquid sand polishes from the Mariah Carey Collection.
The colours included are (from left to right) Get Your Number, Can't Let Go, The Impossible and Stay The Night.
You can't tell from the pictures above, but these bottles are proper diddy and I was a little concerned about how many uses I would get out of it, so I didn't want to waste any. All of these swatches were done on different days in different lighting, so I could get some wear out of the polish rather than put it on just to swatch and move onto the next one.
Just a comparison shot next to a normal sized Seche Vite to show how tiny they really are.
Click the jump to see the swatches.
Get Your Number is a blue jelly polish, packed full of multi sized holo glitters. The mixture of the jelly base and the glitter makes it difficult to really see the textured finish, but that does not stop the end result from being absolutely stunning.
This finish took 2 coats, although in some lights, my nail line was still visible and so 3 coats may be better to get full coverage.
I wanted to get a picture showing off all the holo glitter, but as usual in the UK, greyness is the colour of our sky. There was one day the sun was out, and every time I got up to take the pictures, the sun was disappear behind a cloud for an hour or so. Disappoint face. I also could not get a great close up showing the texture.
Believe me though, this polish is stunning when the sun hits it.
Because these polishes are so cram packed with glitter, they also look great with a topcoat on. Yes this does take away from the textured finish, but these are very versatile polishes.
Again, lack of sun ruined how beautiful this really looks, but with topcoat it really is just as stunning.
Be warned when using topcoat, because of the textured finish, these polishes are topcoat thirsty and Get Your Number took 3 coats of Seche Vite to cover it.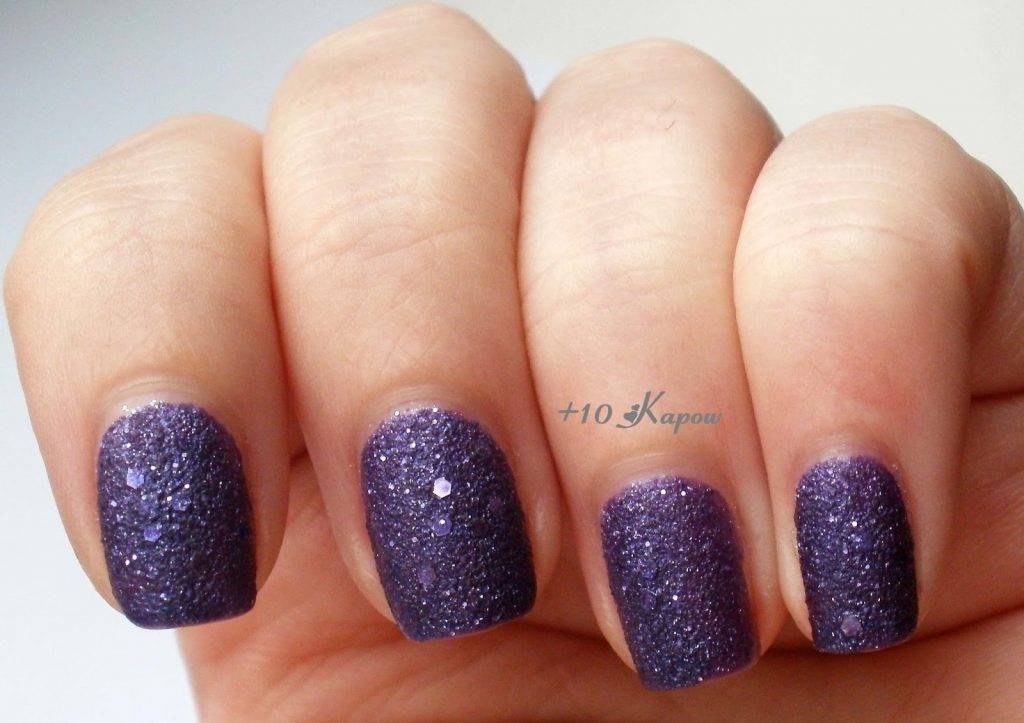 Can;t Let Go is a Grape Purple colour with purple micro glitter and larger purple hex glitter which stand out on top once the polish is dry and remain shiny giving this stunning contrast. This is not a jelly and so, as you can see, the texture is much more prominent. This was 2 coats.
This is the most simple of all the polishes in this collection, and, to be honest, when applying it initially, I wasn't in love with it. Once it dried though, I was in complete awe of how beautiful it is. This isn't visible from the pictures, but it made my nails look super long and elegant and if I buy a full size of any from this collection, it will definitely be Can't let Go, without a doubt.
Here is Can't let Go with topcoat, again, this polish took 3 coats of Seche, probably could have gotten away with 2. It looks much more sparkly with topcoat as it seems to show silver glitter in there as well.
The Impossible is pinky/red in colour and is another jelly based polish, so again, it can be difficult to see the textured finish. It has 2 to 3 sizes of pinky/red glitter, I'm pretty sure some of the smaller pieces are holo. As you can see, not only does the glitter remain shiny after the polish dries, but in different lights, it also looks black, which gives the polish a very interesting edge.
Sadly I am not a fan of this polish in its textured state. I'm not sure what it is about it, and it's not even the fact that it's pinky/red, I actually really like the colour but just the overall polish is not to my liking.
With 3 coats of topcoat, this polish turns into a juicy, nom inducing, pool of gorgeousness. It seems much more red with a topcoat on and you still get the effect of the glitter looking black in certain lights. I much prefer this polish with the topcoat.
*From what I am aware, the full sized bottles of this polish contain large pieces of star shaped glitter although none were present in my mini bottle.
And last but definitely not least is Stay The Night. Stay The Night is a black non jelly base with pinky/red glitter packed in. Again, the glitter is able to remain shiny once the polish has dried and adds this great effect. It reminds me of lava rock. This was 3 coats as I found that this polish seemed to apply patchy and needed that extra coat just to even it out.
In my opinion, this polish has the most prominent texture and is another one that I really enjoyed wearing.
This took 3 coats of Seche Vite to cover with top coat but, as with the other polishes, the result was stunning. The glitter really shines through once the topcoat has been applied and it makes the black look like a jelly.
One thing i would say about this polish, is that when wearing in textured state, the colour seems to come off the glitter rather easily. After washing my hands once, about 50% of the glitter was silver rather than the pinky/red it started out with.
Removing the polishes was on par with any packed glitter polishes, so it was quite the pain in the ass. Although I did find that they were much easier to remove once a top coat has been applied.. The Impossible was the worst one to remove, the colour just smeared all around my nails and the glitter got everywhere and refused to budge for quite a while.
For the best wear of these, I recommend wearing them as a textured polish for about 2-3 days depending on how much of a battering your hands and nails take on a daily basis, then adding a top coat like Seche Vite to extend the life of the polish and give you a slightly different look, which will give you a few more days.
From the time that I have been wearing them, I find that these are quite sturdy polishes. I find that they last a lot less time if I have a bath or wash the dishes within 12 hours of applying them. This isn't always possible but worth noting.
Hope you are all having a great week and are looking forward to the weekend.
:)x