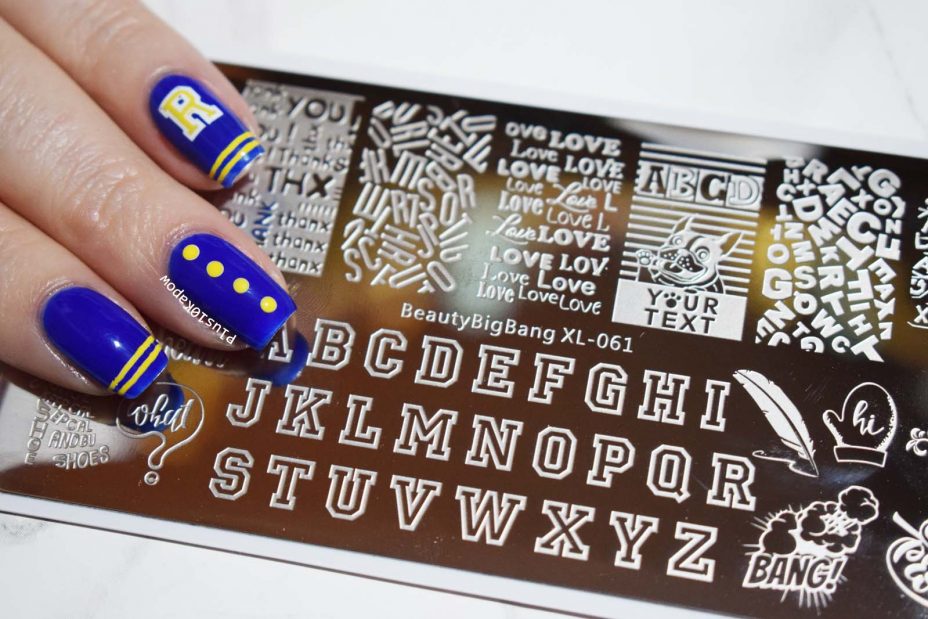 It's Jim's birthday today and we just had a lovely, late lunch with his parents, but that has kicked my fatigue in to action and I am now trudging, but I just wanted to get a post up before it fully has me in it's grips and I need to go lay down, so here is the Beauty Big Bang XL-061 stamping plate.
Ok, so let's talk about this plate. For me, it has 2 glaringly obvious problems. The first one is that the bottom left image of the shoe shape with writing in it, I just cannot make sense of what it is supposed to say, maybe my brain is just being stupid and it really does make sense, so if you can see it, let me know. And the second issue I spotted is the dog with the ABCD bit above it, did you spot it? The bottom of the image says "your text" which I am not sure if it is a mistake or intentional. I would have thought it would have been better to just have a block of space to stamp then do text over it.
Anyway, aside from those 2 things, I really like this plate mainly because of the Varsity style lettering and I would say if you're going to buy this plate for any reason, buy it for the lettering, and maybe the comic book callouts.
I instantly thought of the Riverdale Varsity jackets in their gorgeous blue and yellow combo and that's what I went for, Riverdale nails. I reverse stamped the "R" and then did a design that sort of resembled the jacket. I used the lines from the top of the dog image and stamped those in white along the tips, then went over them with the colours, so it does look a bit messy, I should have stamped the colours too really.Oh, and probably best to ignore my wonky "buttons" haha, they went a bit skew-whiff and I just didn't have the energy to fix them.
Polishes used: Barry M Blue Grape
Barry M Banana Split
Moyou White Knight
The plate stamps really well and I got fab pickup every time. My plate had no imperfections.
You can grab the BBBXL-061 here for £2.15/$2.79 and don't forget to use code PLUS10 to get 10% off your order.
Hope the day is treating you well.
:)x